PARRIS truck accident attorneys have the experience, knowledge, and relentless drive to provide you with award-winning representation in your truck accident case. Our proven track record of multi-million dollar verdicts against international trucking companies speaks for itself.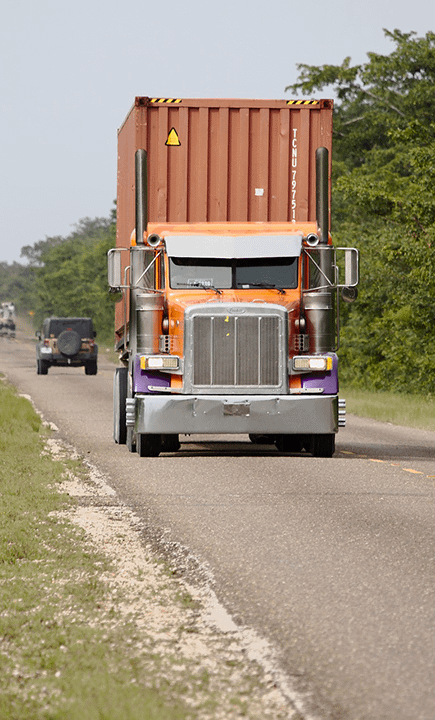 COMMERCIAL TRUCKS AND SMALL CARS
Commercial trucking is a major industry in California, and commercial trucks, or big rigs, are seen on the roads all day long. If you or a loved one has been injured in an accident with a commercial truck, call PARRIS Law Firm immediately. Commercial trucking cases are complex, and there are strict deadlines to meet to successfully file accident lawsuits. PARRIS attorneys have over 35 years of experience fighting global commercial truck companies, and will relentlessly fight to get you the maximum compensation you deserve.
PARRIS HAS TRUCKING ACCIDENT CASE EXPERTISE
 In 2018, PARRIS Law Firm obtained a $56.5 million big rig truck accident verdict against an international trucking company, CRST, Inc. This verdict was obtained after a 16-day trial, and is just one of many of our multi-million dollar results against trucking companies. While we can't guarantee this result in other cases, we can guarantee that our top-notch trial lawyers will go the distance for you and your loved ones. PARRIS offers free trucking case consultations, and we promise that you pay absolutely no fees until you win compensation for your injuries.
TRUCK ACCIDENT LAWSUITS ARE COMPLEX
Truck accident lawsuits generally involve suing large companies and multiple defendants, so the process of recovering the compensation you deserve is complicated. Typically, lawsuits will be filed against the company that owns the truck as well as the driver of the truck. The trucking company and its insurance company will have their own procedures and tactics that they follow after a trucking accident to try and limit your recovery.
The parties, people, or defendants that could be held responsible for your truck accident injuries can include: the truck driver, the trucking company that employed the driver, the owner of the truck, the owner of the trailer, the company leasing the truck, the company leasing the trailer, the manufacturer of the truck and trailer, and the shipper who ordered the transportation.
PARRIS truck accident lawyers have the experience and knowledge to investigate and determine which parties will be held accountable for your injuries.
You'll be surprised by the difference a call can make