PARRIS will fight relentlessly for you when you or a loved one experiences injuries from a life-changing car accident. Contact us for a free case evaluation today. You will pay no fees until we win you compensation.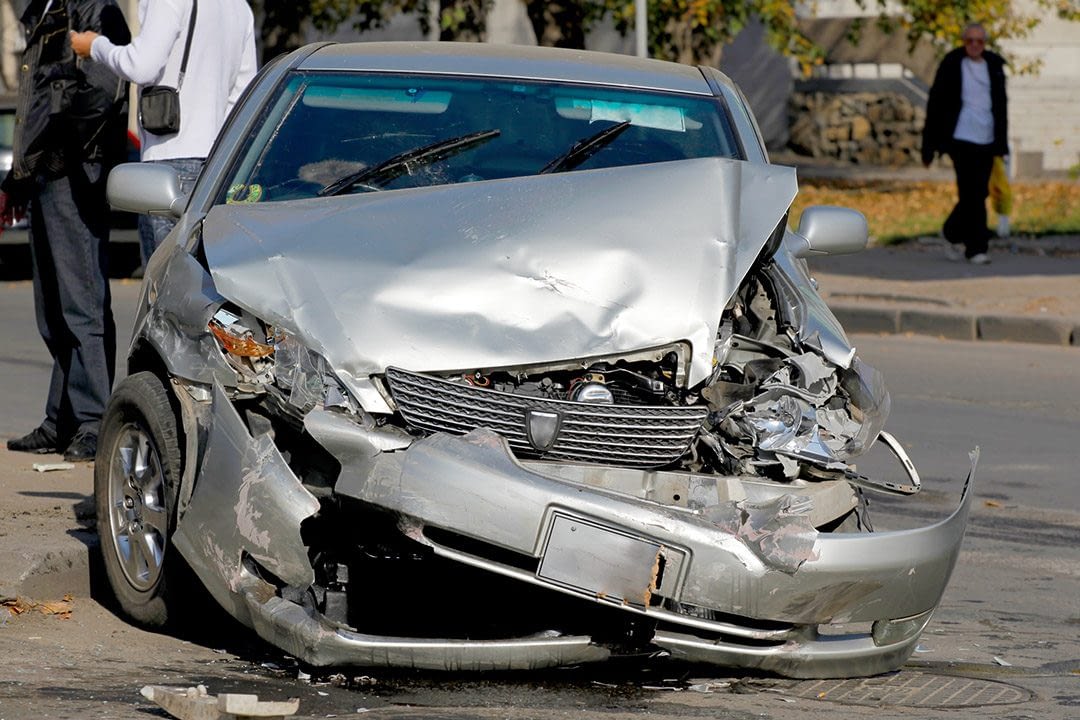 PARRIS Protects Your Rights
When you're involved in a car accident, your life changes forever.
Your car may be dented, damaged, or totaled. You may be left with severe injuries, forcing you to miss work and pay unexpected, costly medical bills. Your life has been placed on hold for who knows how long, and until you make a full recovery, you and your loved ones suffer.
All this for an accident that wasn't your fault.
If this happens, you'll need a legal advocate you can depend on to help you navigate this difficult time. PARRIS car accident lawyers will fearlessly protect your rights and ensure you make a full recovery.
WHY PARRIS CAR ACCIDENT LAWYERS?
Many law firms are looking to settle car accidents quickly, without spending the time to fight for the maximum compensation a case deserves.
That is not the case at PARRIS. Our seasoned legal team prepares each case for trial, ensuring each case receives the attention and care needed to be successful. Meanwhile, our case managers and client care coordinators stay in contact with you, updating you at every step of your case.
Our process gets results. Over 36 years, we've developed a 99% success rate and won over $1.6 billion for clients.
When you hire us, we won't rest until you see justice.
COMPENSATION AVAILABLE IN A CAR ACCIDENT LAWSUIT
Car accidents are costly. There's no doubt about it. When you're facing unexpected costs after an auto accident caused by another negligent driver, PARRIS has the tools to help you get the compensation you need to restore your life.
With PARRIS, you have several recovery options:
Medical Bills: You should not be held responsible for medical costs incurred by someone else's negligence. When PARRIS obtains your personal injury settlement or verdict, you will recover the costs of past, current, and future medical bills.
Property Damage: Repair and rental car costs add up after an accident. Filing a personal injury claim against the negligent driver may allow you to collect compensation to cover these costs.
Lost Wages and Future Income: For many Americans, one missed paycheck is bad news for your family. Hiring PARRIS lawyers can help you recover the wages you lost and the wages you may lose in the future due to your injuries or ongoing medical treatment.
Pain and Suffering: This term refers to your physical and mental trauma after a catastrophic personal injury, whether from a car collision or another type of accident. Pain and suffering damages can compensate for physical suffering—current and future pain, permanent disability or impairment, or even inconvenience due to medical treatment—or mental anguish, including emotional distress, anxiety, depression, post-traumatic stress disorder, insomnia, or other mental illnesses.
Loss of Consortium: If your injury permanently damages or changes your relationship with your family, then your family members may have a claim for "loss of consortium" damages—that is, loss of companionship damages.
Punitive Damages: These damages are meant to punish the defendant rather than compensate the plaintiff. While rare in car accident cases, punitive damages are generally awarded when the negligent driver acted in such an irresponsible manner that they should have known their actions would seriously injure someone (i.e., drunk drivers).
Find out what you can recover today—contact PARRIS today for a free legal consultation. You'll pay no fees until we win your case.
DEALING WITH INSURANCE COMPANIES AFTER A CAR ACCIDENT
When you're involved in a car accident that wasn't your fault, the at-fault driver's insurance company is responsible for reimbursing you. However, insurance companies may use bad faith tactics to avoid paying you the compensation you deserve. If you don't have representation, they may use this to their advantage and work to lessen your settlement offer.
Don't let this happen to you.
PARRIS Law Firm has been fighting the car insurance industry in California for over 36 years. We know the ins and outs of the industry, and we're very familiar with their tactics—many staff members at our firm were former insurance adjusters. Rather than struggle with the insurance company, the driver at fault, or their attorneys, let PARRIS be the one to fight for you as you focus on you and your loved ones' recoveries.
INFORMATION TO COLLECT AFTER A CAR ACCIDENT
After a car accident, we'll work with you to gather critical information to support your case.  Here is a brief list of the information you may need to collect after a vehicle collision:
Information from the other driver, including their:

Contact information (name, address, phone number)
Driver's license
License plate number
Vehicle identification number (VIN)
Insurance card
Make, model, color, and year of their car

Photos of the scene and surrounding areas
Witness testimonies, if applicable
Police accident report
Car repair receipts
Medical bills, prescriptions, and information
Any correspondence with insurance companies
Self-reported symptoms and experiences in a journal
Any and all information you keep will give us more insight into your accident, allowing our attorneys to better protect your rights.
CAR ACCIDENT STATISTICS
According to the IIHS, 3,606 people died in motor vehicle accidents in California in 2019—an outrageously high number.
Fortunately, California's death rate per 100 million miles traveled —1.06—is less than that of most states. This difference is likely because Californians drive further distances than those living in most other states.
Vehicle safety improvements have lessened car accident deaths in general, but vehicle collisions continue to pose a serious safety concern to residents all over the state.
A 2020 Esurance report found that every 1,000 miles, we face a 1 in 366 chance of being in a car accident.
These are dangerous odds. If the worst happens, our firm is equipped to boldly fight for your rights while you make a full recovery.
COMMON CAUSES OF CAR ACCIDENTS
Unfortunately, car accidents have several common causes:
Drunk Driving: Driving under the influence of alcohol or drugs causes 1/3 of all traffic-related deaths every year, according to the NHTSA.
Reckless Driving: Speeding, driving too fast for conditions, failing to signal, and other negligent behaviors result in thousands of car accidents every day.
Distracted Driving

: These habits, including driving while using a cell phone, adjusting the radio, reading, eating, or paying attention to passengers, have led to an uptick in accidents in recent years.

Vehicle Malfunctions: Defective automotive components, such as faulty brake parts or defective tires, have caused vehicle malfunctions, resulting in accidents.
Road Defects: Poorly designed and maintained roads can "trip" cars, causing accidents.
Weather Conditions: Rain, ice, fog, or excessive wind can limit visibility and create dangerous road conditions.
Objects in the Road: Unexpected pedestrians, animals, or debris can cause drivers to swerve and crash.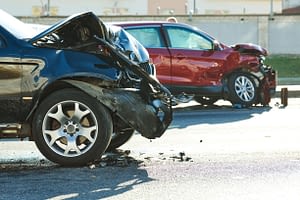 TYPES OF CAR ACCIDENTS
The variety of events and conditions that precede car accidents allow for many different types of collisions. Here are the six most common:
Single-Vehicle Crashes: Many car accidents involve only a single driver. Crashes like these often occur due to factors outside the driver's control (weather conditions, road defects, vehicle malfunctions, or objects in the road). The reckless behavior of other drivers can also cause single-vehicle accidents if the safe driver swerves to avoid the other car and crashes as a result.
Rear-End Collisions: These are among the most common types of accidents, occurring when a vehicle collides with the back end of a stopped or slowed car. Fault is nearly always assigned to the following driver.
Sideswipe Collisions: When two cars collide while traveling in the same direction, the resulting accident is usually a sideswipe collision. Your vehicle could be sideswiped if another driver fails to merge into your lane safely. Often the at-fault driver will fail to signal, forget to check their blind spot, or drift into your lane while driving distracted.
T-Bone Crashes: These crashes occur in intersections, parking lots, and residential streets. In a T-bone accident, the front of one vehicle hits the side of another car head-on, forming a "T" shape. T-bone accidents are especially hazardous for those inside the impacted vehicle (the top of the "T"), for only their vehicle's doors and airbags protect them from the impact of the oncoming car.
Rollover Accidents: A crash becomes a rollover if the car rolls onto its side or roof at any point in the crash. Vehicles with a higher center of gravity, such as pickups and SUVs, are more susceptible to these types of crashes. Many rollover crashes are single-vehicle accidents, occurring when the driver of a tall vehicle takes a turn too quickly or "trips" on a defect in the road.
Head-On Collisions: Head-on collisions occur when two cars traveling in opposite directions smash into each other head-on. The majority of these crashes are deadly.
If you or a loved one have been involved in one of these devastating accidents, contact us today. We'll fight your legal battles for you while you focus on your recovery.
TYPE OF CAR ACCIDENT INJURIES
You may experience a host of medical issues in the days following your accident, including:
Physical Injuries
Physical pain
Cuts and bruises
Whiplash
Broken bones
Internal bleeding
Head and neck injuries
Back and spinal cord Injuries
Miscarriage
Traumatic brain injuries
Mental and Emotional Injuries
Depression
Anxiety
PTSD
Emotional distress
Loss of companionship
Loss of enjoyment of life
Injuries like these can derail your entire life. You may face weeks, months, or years of treatment. You may have to miss work, file for disability, or restructure your schedule around your injuries.
Let us help you rebuild your life. We'll protect your rights while you and your family recover. When you hire PARRIS car accident lawyers, we can secure financial compensation for all of the above-listed injuries.
You'll be surprised by the difference a call can make