Women's History Month was created to honor the unsung heroes of our everyday lives and to recognize the achievements of women now and throughout history.
Why does it matter to PARRIS? Well, if we add up all of our attorneys and team members, PARRIS is over 50% female! In honor of this, we're recognizing the trailblazers here at PARRIS.
Women at PARRIS
56.3% of our staff, 50% of our case managers, and 31.3% of our attorneys are female. Let's not dwell on the numbers, though: we want to focus on the achievements of our trailblazers, highlight their successes, and inspire the next generation of leading women. After all, one of the biggest ways to inspire the next generation is to show them it's possible and to talk about how they can achieve even more success.
Role Model Effect
There is a classic study called "See Jane Run" that explains how seeing and talking about female role models inspires the next generation to achieve their dreams.
To summarize the study, if you see "someone like you" achieving something, you become more likely to picture yourself achieving that same thing.
Importantly, the author's note: it's not simply the image of women but the increased amount of discussion, "particularly within families," that creates the Role Model Effect.
Amazing Women Powering PARRIS from Behind the Scenes
On that note, we'd like to recognize a few of the hardworking women at PARRIS.
First up is attorney Patricia K. Oliver, who has recovered millions for her clients. In addition to her amazing work inside the courtroom, Patricia is also the co-founder of the Christian Legal Aid of Los Angeles (CLA-LA). CLA-LA provides legal services to those who can't afford or don't have access to legal help. She's truly a role model to young women across the legal industry.
Leading our complex litigation unit is Kitty K. Szeto. Kitty is a master cross-examiner and has also delivered multi-million dollar results for her clients. She's currently putting those skills to work protecting clients from greedy corporations in numerous class-action suits.
Not only do we have outstanding women attorneys, but we also have amazing women powering PARRIS from behind the scenes. Every day, they work tirelessly to deliver a great experience for our clients. We're honored to recognize their hard work during Women's History Month. None of our results would be possible without their compassion and tenacity.
The photo below features the women behind our Pre-Litigation, Litigation, Settlement, and Management teams. They pour their hearts and souls into each and every case. Thank you for all of your hard work!
Those who know PARRIS will notice we didn't capture every woman that powers us. That's because they were busy protecting our clients in court alongside PARRIS attorneys.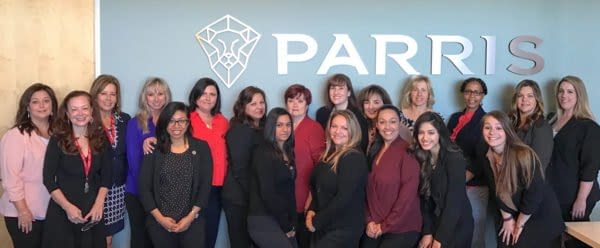 Now, let's take a quick look at our featured trailblazer, Carrol Parris.
Featured Trailblazer at PARRIS: Carrol Parris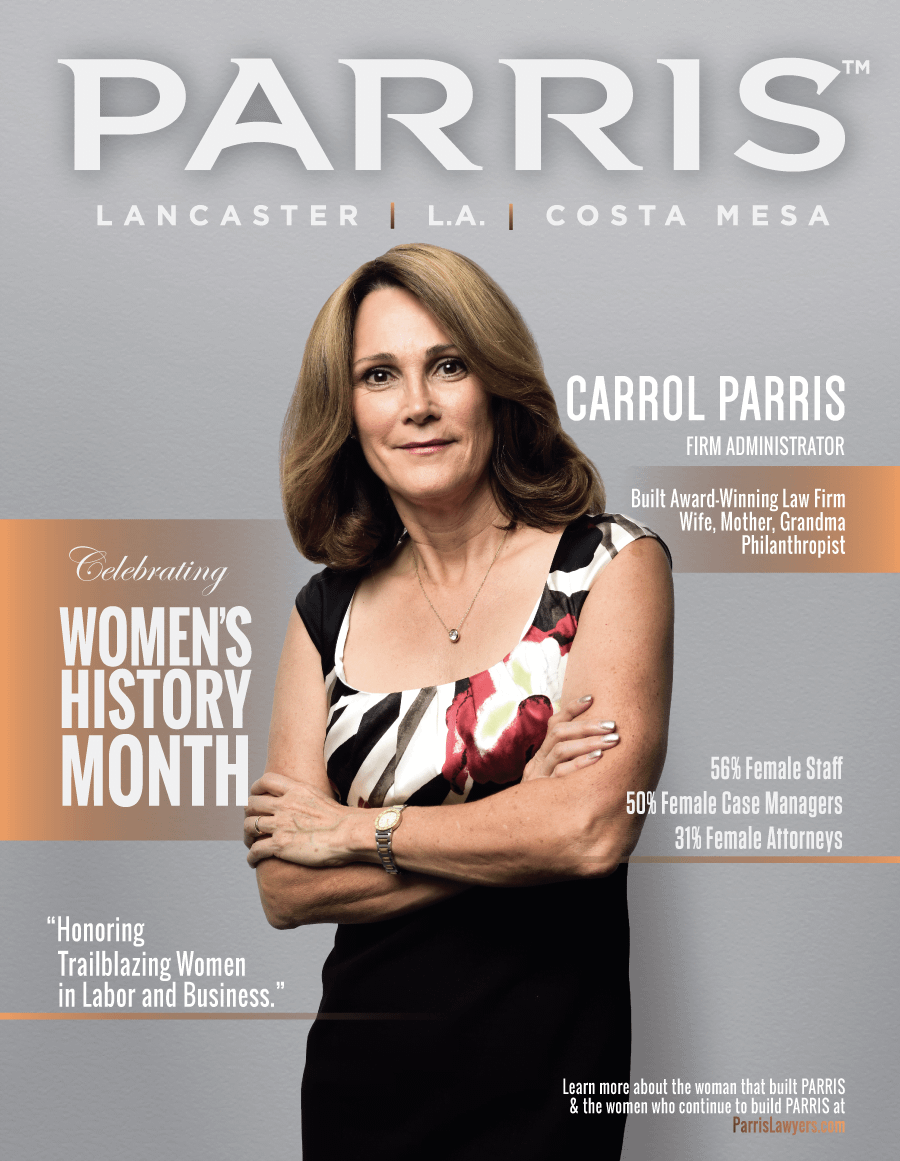 Since our humble beginnings in 1985, Firm Administrator and wife of R. Rex Parris, Carrol Parris has been integral to the firm's growth and sustained success. It's well known that PARRIS began as a small "mom and pop" firm and has grown to one of the premier law firms in Southern California. R. Rex Parris recently joked during the recent launch of our new brand, "is there any doubt who's in charge of this place" as he gestured to Carrol.
With Carrol overseeing the firm, we've recovered over $1.4 billion in verdicts and settlements for our clients. When asked why she's so passionate about helping others she said:
"Both Rex and I were severely affected by other people's negligence, earlier in life. For that reason, I believe we bring a more genuine approach to each of our clients, we truly understand the hardship they are facing, and we will do everything we can to make sure their lives return to normal. Honestly, I believe that's what made us so successful; find something that you really care about, find a way to affect change in that space, then… GO FOR IT!"
That go-getter attitude is the reason she oversees thousands of client files. In addition to that, PARRIS's client intake process can also be attributed to Carrol. Throughout all of this, Carrol raised 4 stellar children, and two of them work at PARRIS! One is taking on a major trucking company right now.
Besides being the Firm Administrator and overseeing the day-to-day operations of PARRIS, Carrol is also a generous philanthropist. She and R. Rex Parris' contributions recently established the PARRIS Institute for Professional Formation at the Pepperdine University School of Law. Even more recently, she helped make possible the efforts of the Jacob Hefter Foundation. Her contributions helped create their "Last Text" program that was highly regarded by the students and faculty at Palmdale High School.
With a leader like Carrol, it's no wonder that we have so many powerful women, succeeding in each of their departments and bringing justice to those who need it the most. Saying she's a role model understates her impact. We're proud to honor Carrol Parris as PARRIS' Featured Trailblazer!